Active Flag
In June 2019, we were awarded our first ever 'Active Flag'.
Click here to view our gallery of events leading to our 'Active School' award.
Accodring to the 'Active School Flag' website: "The Active School Flag is awarded to schools that strive to achieve a physically educated and physically active school community" getting "more schools, more active, more often."
Our active school slogan states
'In Bilboa School the kids are so cool,
we're getting fit because we never quit.'
Well done to Róisín for coming up with this slogan when she was in 2nd class.
In January 2020, we received our Aldi play rugby pack. Thanks to all who collected the stickers for this campaign.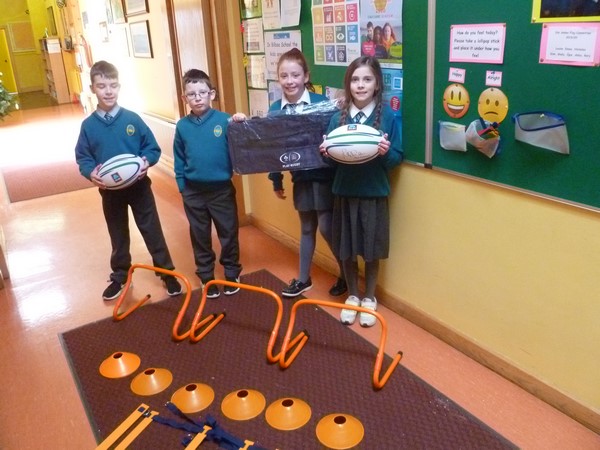 Our Active School Committee (above) consists of one boy and one girl from 3rd, 4th, 5th & 6th classes. This committee worked under the guidance of Mrs. Fox and Mr. McMahon. The pupils in these classes were asked to write a short piece on why they should be selected to be on the committee. They meet regularly to discuss ideas about how to keep us all active and visit each classroom to explain any new initiatives to all the children.
Well done to Shelly who composed our 'Active Rap'
Us Bilboa kids are really cool,
Because we are an Active School,
We like to run and jump and play,
Even on a rainy day.
Each class receives 1 hour of formal physical education per week. Classes follow the 6 strands from the Primary School Curriculum as outlined below
Games
Athletics
Gymnastics
Dance
Outdoor & Adventure
Aquatics
In addition to this, pupils are encouraged to get active in so many other ways each day in school. Informal physical activity is facilitated and we pride ourselves in educating our pupils about living an active and healthy lifestyle. There are many benefits for children by being active such as an improved fitness rate, strong bone & muscle development, improved attention span and building social skills through play. We introduced DEAR time (Drop Everything And Run) time twice per week across all classes for 6 weeks. The active school committee have checked and organised sports equipment and each class will be given a dedicated day for bringing equipment to the yard at lunch time. We are also planning and Active School Week, and a walk to school initiative. Photos of all our activities can be seen in our Active Flag folder of the gallery section.
Children can also get active through extra curricular activities. We offer the following
Hurling

Camogie

Football

Soccer

Rugby

Athletics

Swimming

Cycling

Walking

Sports day

School Tours

Dance

Yoga

Zumba

Basketball
Boys Football Team October 2019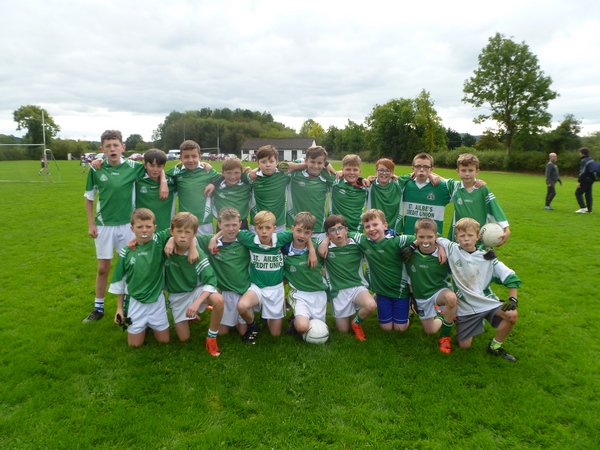 On 8th October 2019 the girls took part in the Cumann na mBunscol East Limerick 9 a side football competition. They played 3 competitive matches against Tineterriffe, Murroe and Caherline.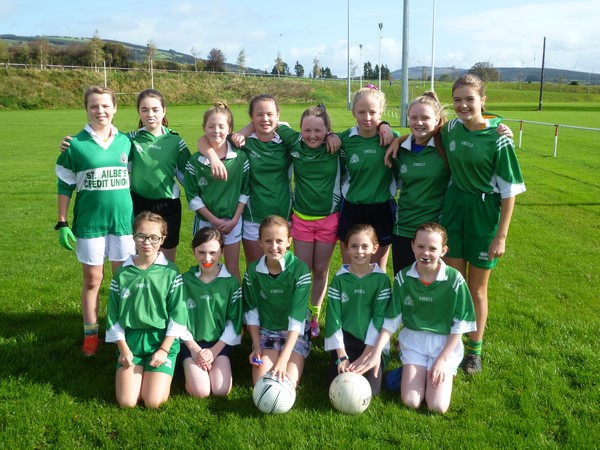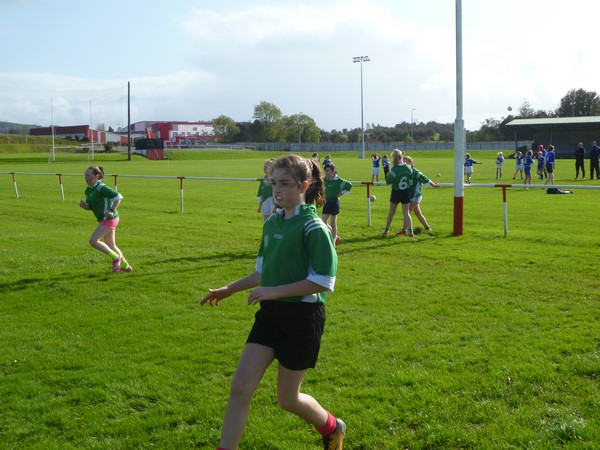 1st class proudly wearing their medals.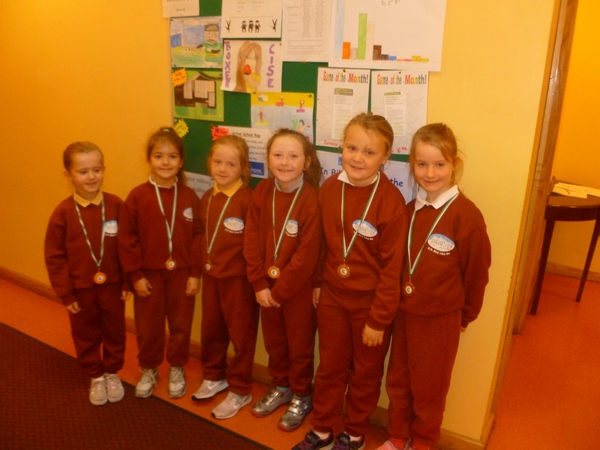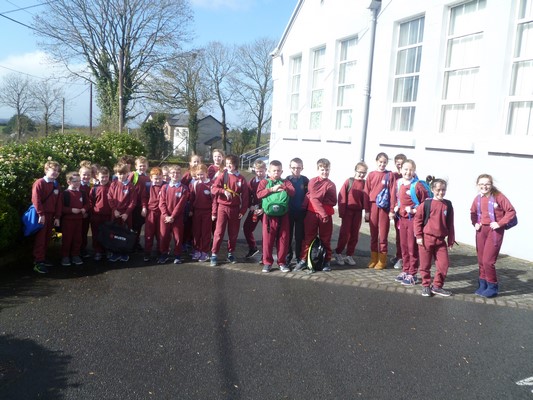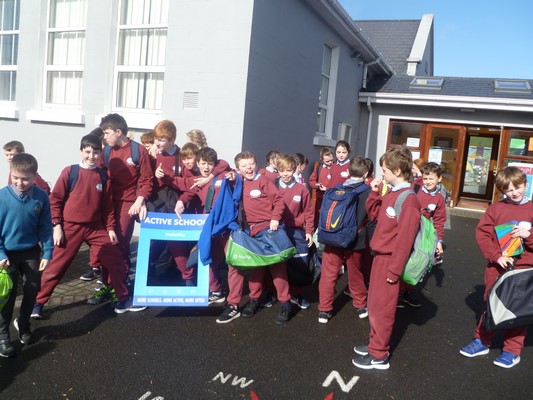 Above: March 2019 - Pupils ready to go to swimming lessons in University of Limerick Arena
We have a wide range of equpiment to enhance and facilitate the teaching of PE in Bilboa NS. The Active Committee did an audit of our equipment and typed up a list of our equipment which is stuck on our PE store room door. We cleaned the store room, checked the equipment and used labels to keep everything organised. Thanks to the Parent's Council for their kind support with upgrading equipment this year which included 2 new goal posts, gymnastic mats, tennis balls, soft balls, skipping ropes, flat cone markers to name a few.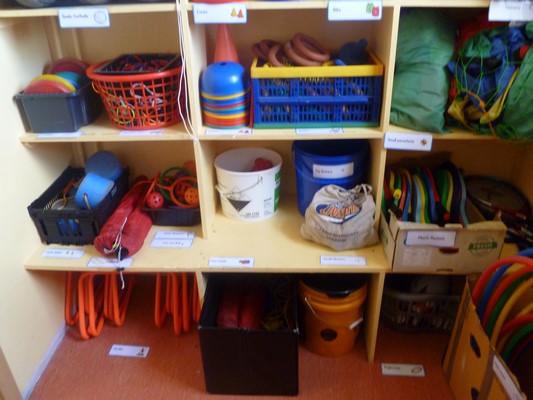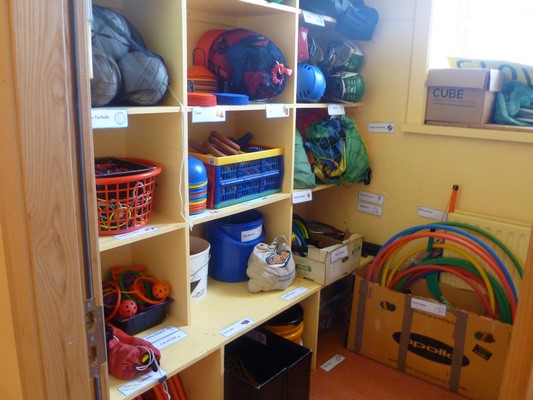 Liam Clohessy from the PDST came to our school on Tuesday 12th February. He delivered some gymnastics lessons to the pupils focusing on jumping and landing. Teachers participated in a 2 hour professional development workshop that evening to enhance their teaching of PE in our school.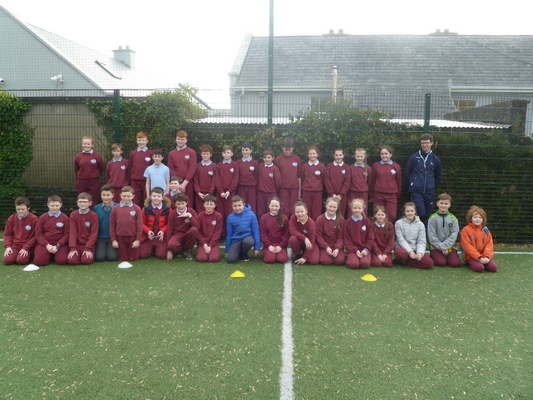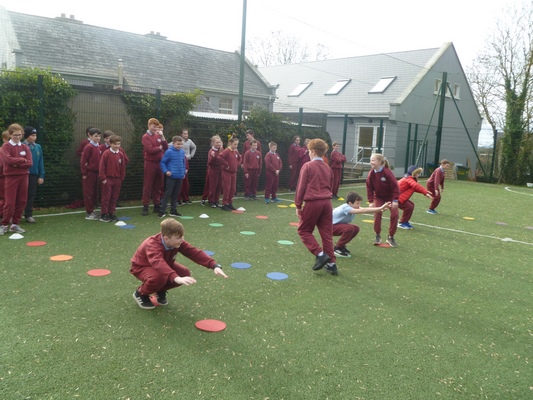 In Bilboa NS we have varied roles of reponsibility that the older children (3rd-6th class) can volunteer for. We have playground leaders who teach games to the younger classes twice a week. We also have equipment monitors who set up equipment at lunch time in the designated area, tidy it up after the bell goes and return it to our PE store room checking everything is in it's correct place. We have Dance leaders who faciliate our Funky Friday each week. We have a rota set up and displayed on our noticeboard to ensure everyone gets an opportunity to do their preferred job.
The Active School Committee presented our slogan winner with her active prizes!!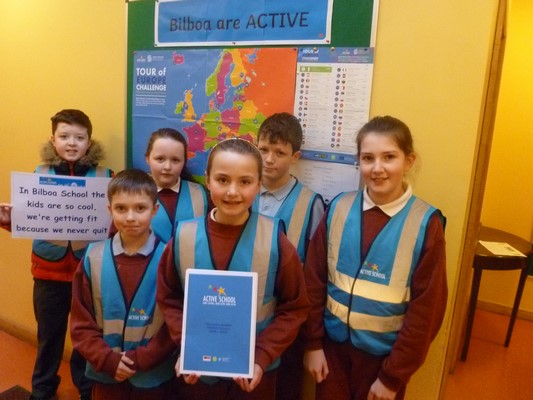 Some of our 'Playground Leaders' (above) which rotate every 2 weeks.
Playground leaders from the senior classes (below) are teaching the game of the month to the infant classes. They loved it!!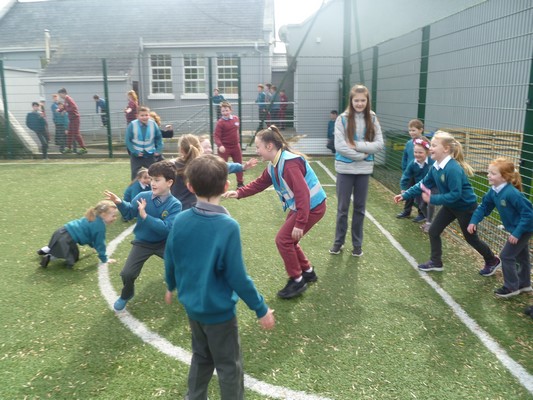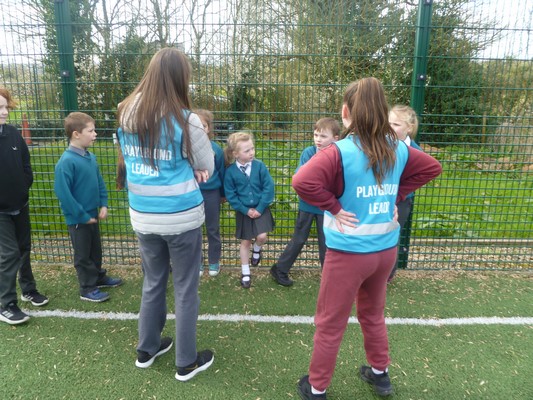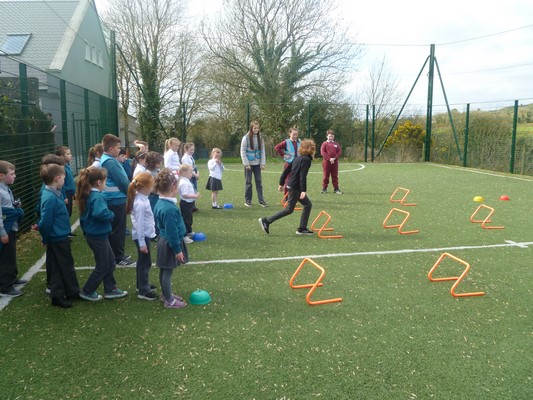 We also have a suggestion box in the corridor and anyone with a suggestion of a new activity can write it down and put it in the box. Our Active School Committee monitor this box.
Active Breaks
In Bilboa NS we appreciate the importance of active breaks throughout the day to improve fitness but also to increase concentration. In February each class received a set of 2 'Active Jars' from our Active Committee. One jar contains a set of numbers and the other contains a set of activities. A teacher/child picks out a number and an activity from each jar and the class complete the activitiy i.e 6 Jumping Jacks etc. Teachers also have a set of avtive dances they can put on their whiteboard for their class to follow. Some classes also do some cosmic yoga. We use these active dances and bizzy breaks on rainy lunch times to make sure we still keep our activity levels up even when we do not get outside.
Tour of Europe
This September we began the Tour of Europe challenge. The first phase involved pupils walking each morning before assembly and collecting a counter each time they completed a lap of the court/astro turf. The laps are totalled each day and our target is to collectively walk to selected destinations in Europe. This activity integrates 'Outdoor & Adventure' activities in PE with maths operations and Geographical skills.
The second phase - a running tour - involved pupils taking part in DEAR time (Drop Everything And Run) at least twice each week. The laps are counted and one of our Active School Committee members keeps a record of laps completed. 12 laps = 1 km. Results below are cumulative.
Destination: Leaning Tower of Pisa, Italy (1,621km)
Buon giorno!! We virtually reached the Leaning Tower of Pisa on 4th March 2019 - completing our running tour of Europe.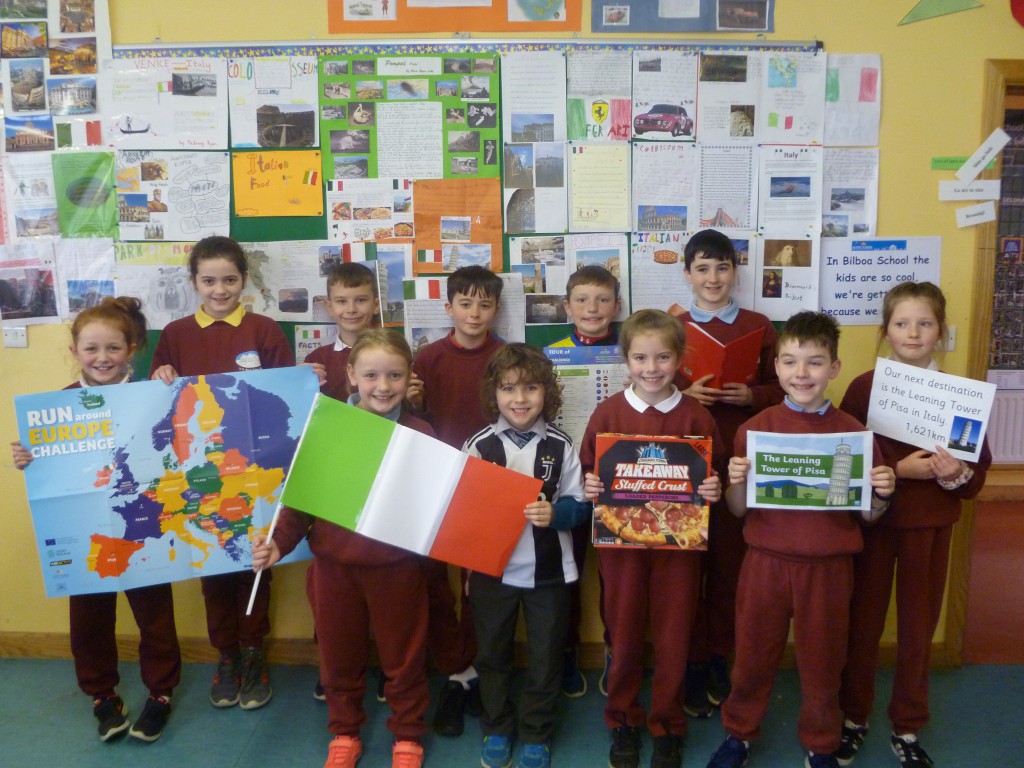 On 11th October we reached Madrid - our first destination for the Tour of Europe Challenge. Hola Amigos from The Santiago Bernabéu Stadium Madrid ????????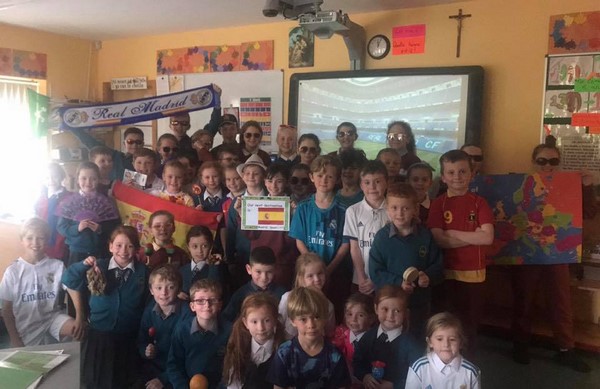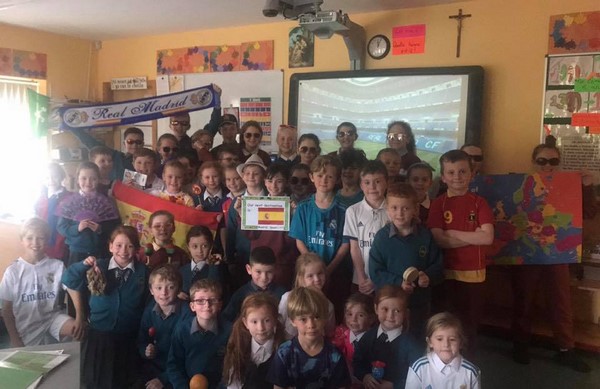 On 24th October we reached destination number 2 - The Eiffel Tower in Paris.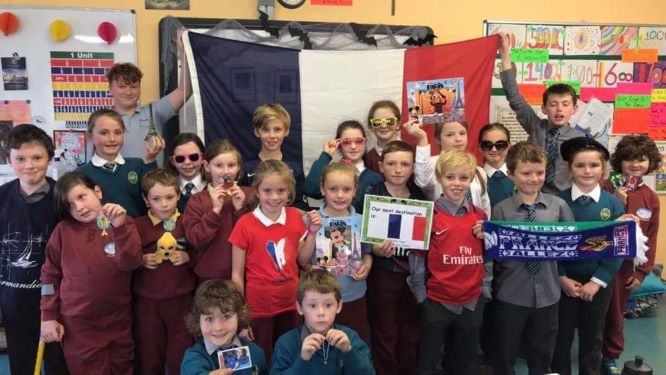 In December we reached Wieliczka Salt Mine, Poland.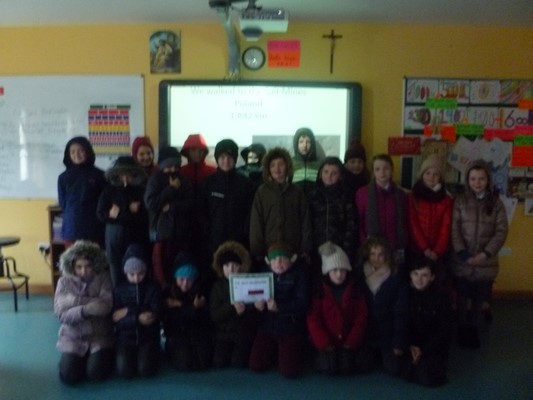 Active Walkway
Our Active Walkway has been set up around the school grounds. All classes have received an induction on the walkway from the Active Committee. Pupils can stop at each signpost and do an activity of their choice such as jumping jacks or jog on the spot. See below.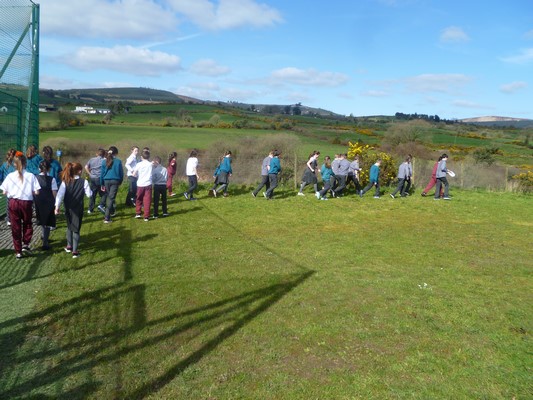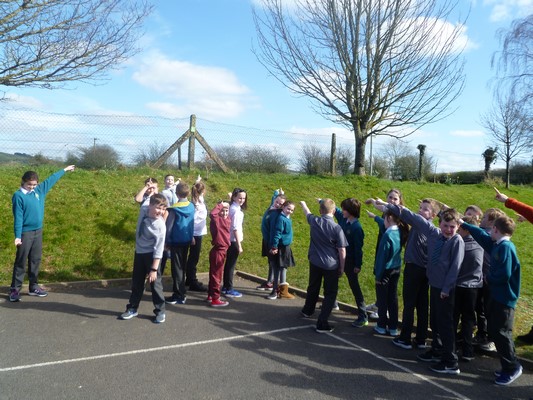 Zumba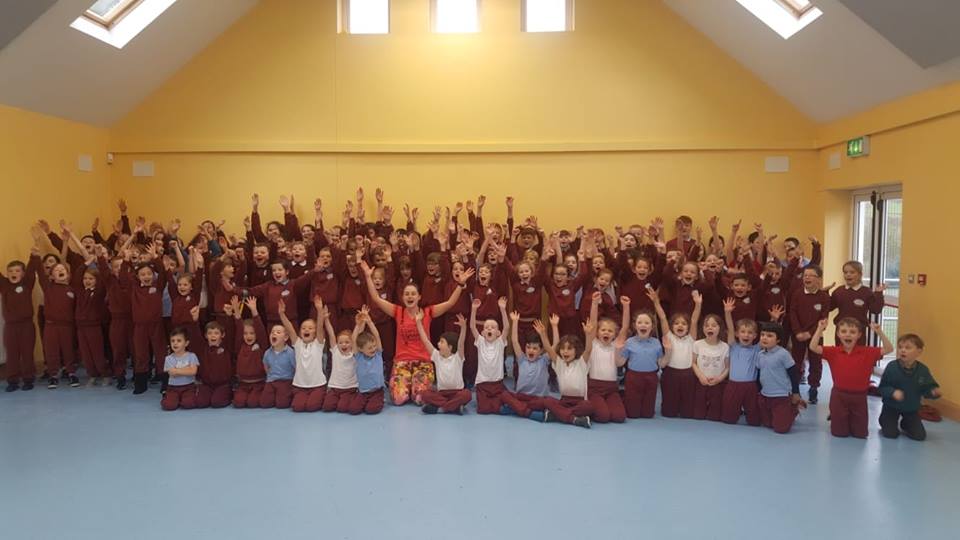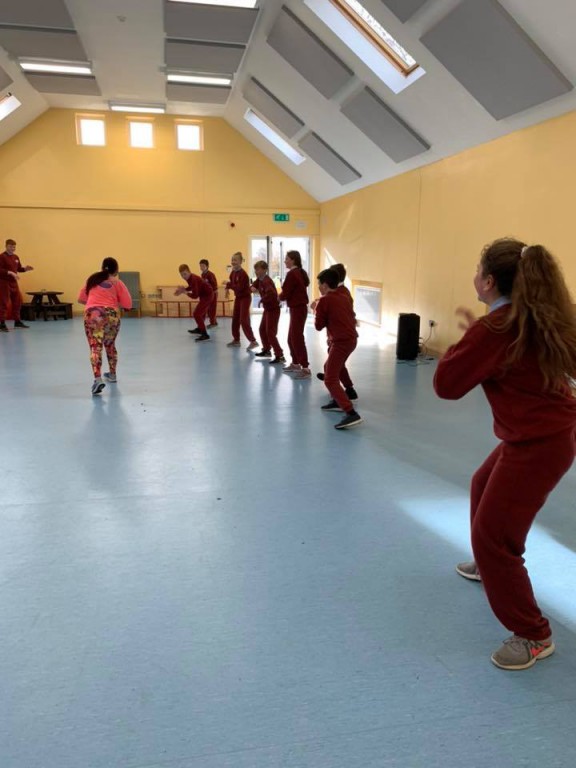 Pupils pictured above with Christine - our Zumba instructor
Below - junior and senior infants enjoying their day with the equipment on the yard.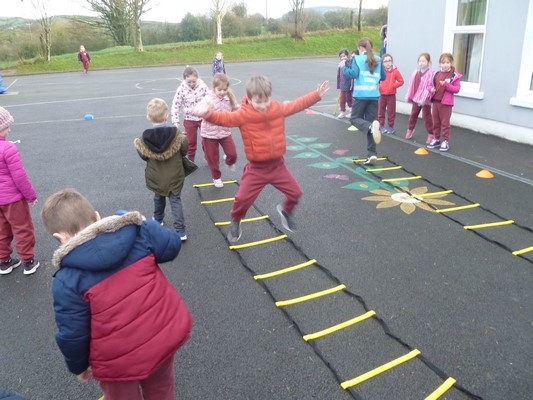 DEAR - Drop Everything And Run (below)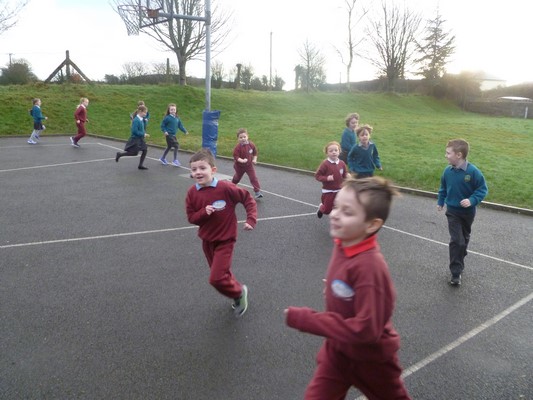 The pupils in 3rd and 4th class after completing their daily kilometre.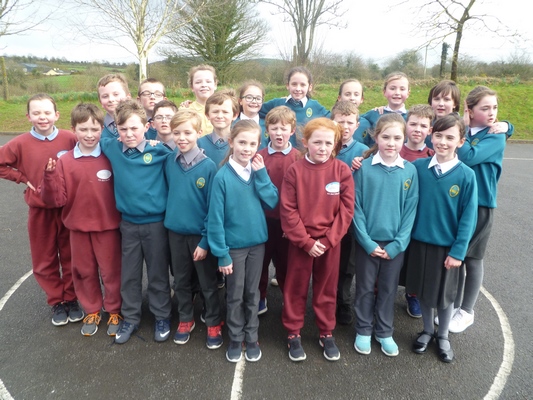 Below: On 'Funky Fridays' music is played through our amp in the yard during lunch time. 6th class girls lead the disco moves and pupils can participate as they please! The girls even designed their own certifcates for great dancing and effort. It is a real highlight and looked forwarded to each week.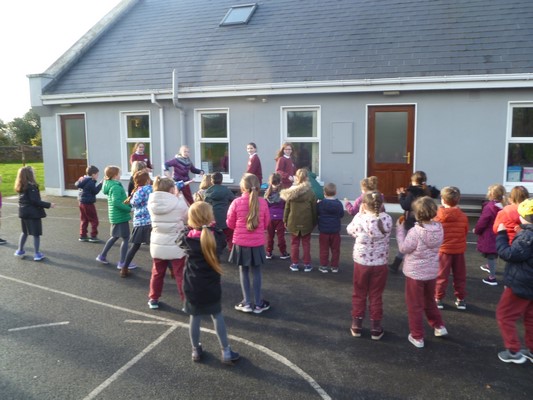 3rd & 4th class enjoying indoor hurling (below) Big thanks to the parents council for the purchase of new sports equipment.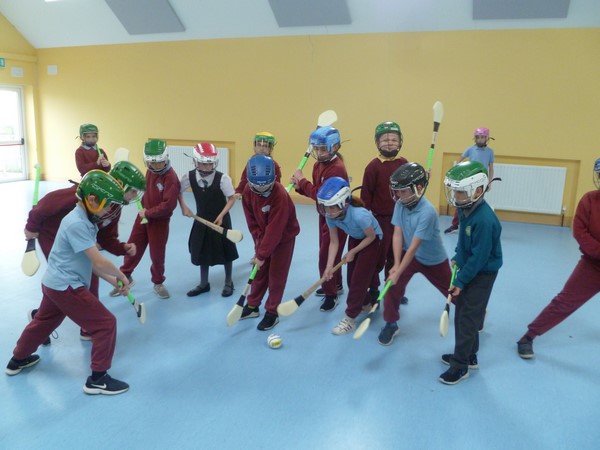 Boys Football Team who took part in the East Limerick 9 a side competition (below)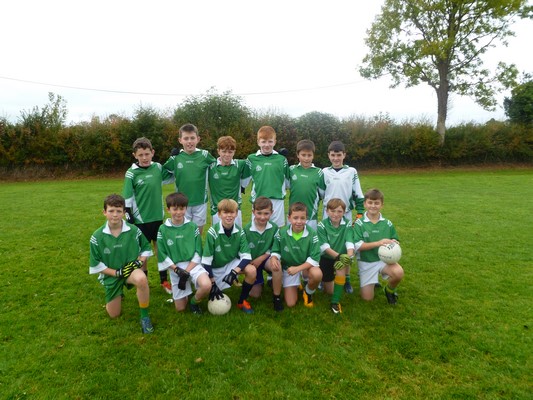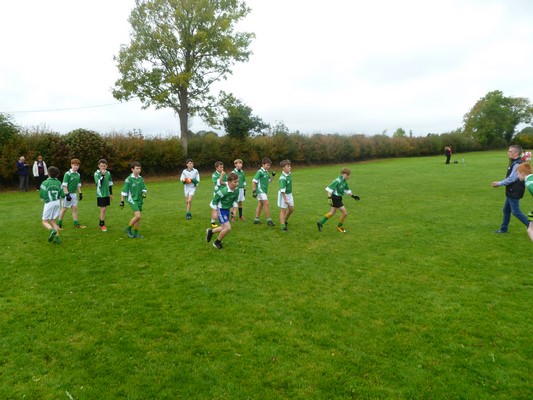 Below: The girls football team that took part in the East Limerick Cumann na mBunscol 7 a side football competition in Caherelly on the 9th October.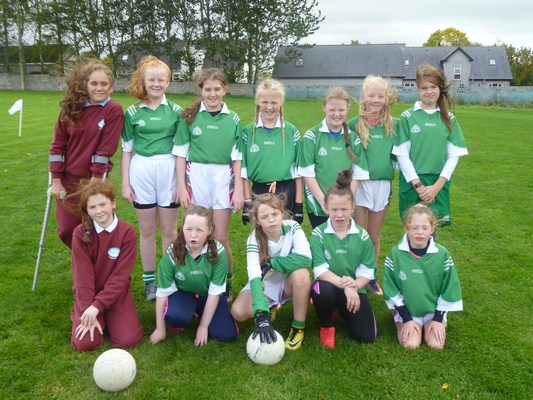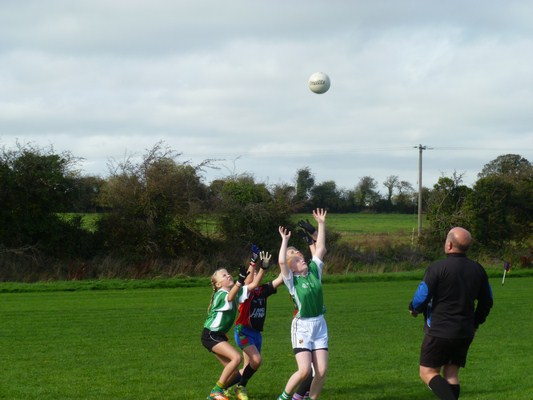 Below: Valentine's themed treasure hunt in school
Halloween themed physical education below.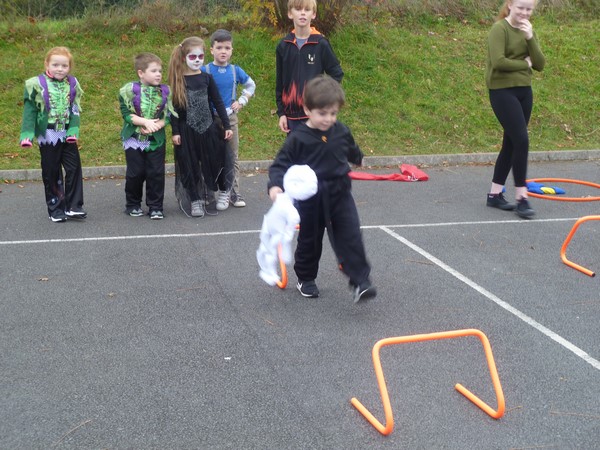 6th class organised Easter themed games in the yard for the younger classes. There were 4 stations, each one lead by a group of 6th class.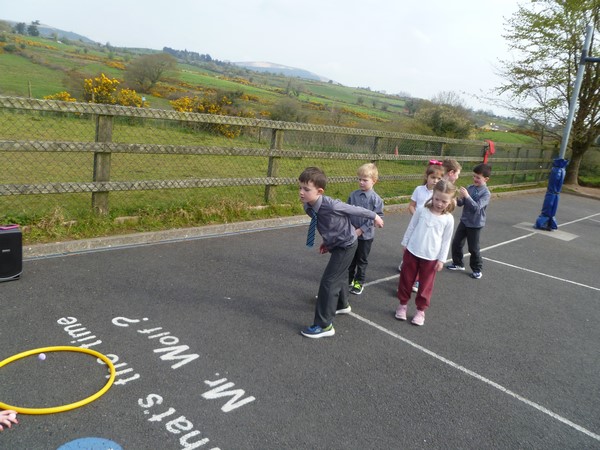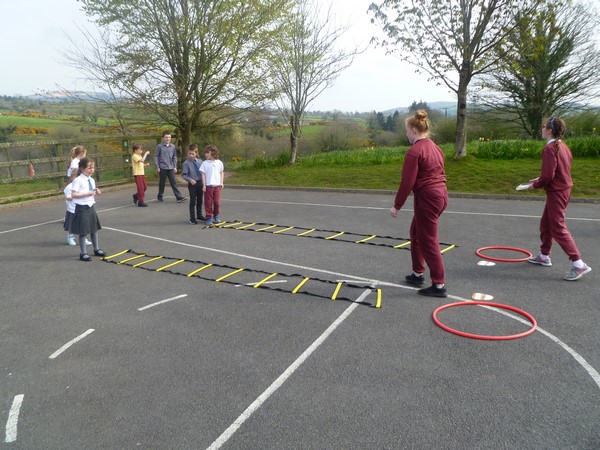 Find the Easter numbers!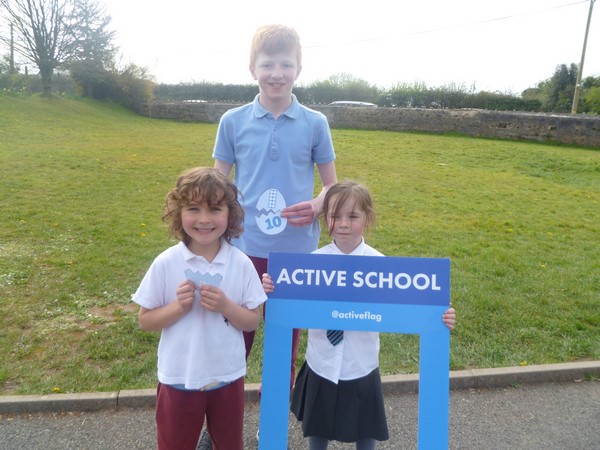 In Bilboa NS we are very fortunate to have partnerships with local sporting organisations, especially Cappamore GAA Club. We have also worked with organisations such as Limerick Sports Partnership and the FAI. Pupils regularly compete in sports outside of school time and we do our best to acknowledge their many achievements both during school time and outside of school time.
Thanks to Noel Gleeson, proprietor of local business 'Gleeson Farm Machinery' for kindly sponsoring a set of GAA jerseys for our school.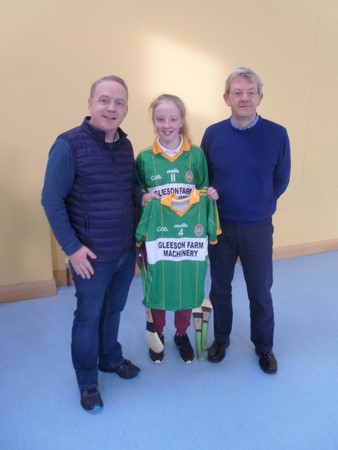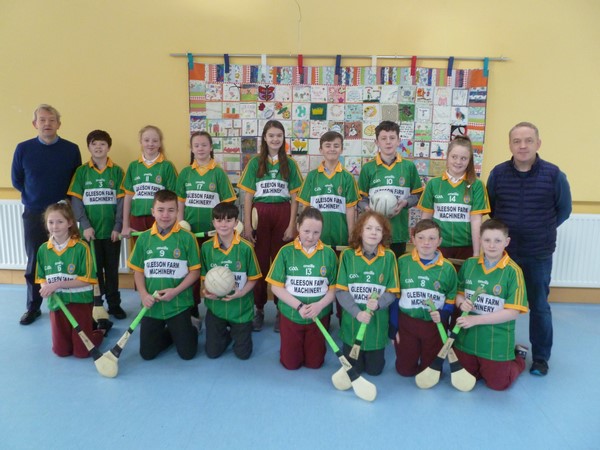 On Monday 4th March 2019, pupils from 5th and 6th classes took part in the FAI 5-A-Side Soccer Blitz at Seanchoill Sports Complex. The girls team had 2 wins over both Feenagh and Gerald Griffin NS but their final match against Anglesboro ended in a draw. Our boys team recorded 2 good wins over Fenagh and Anglesboro schools and qualified for the next round. Well done to all involved.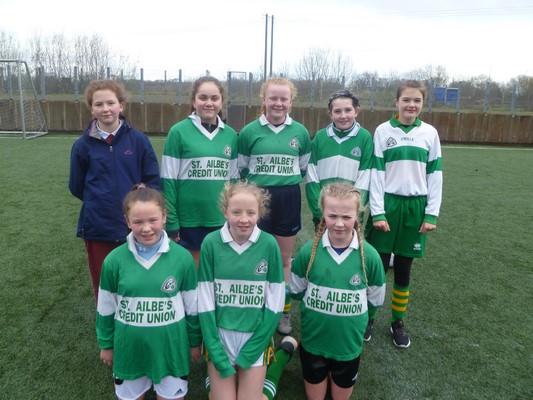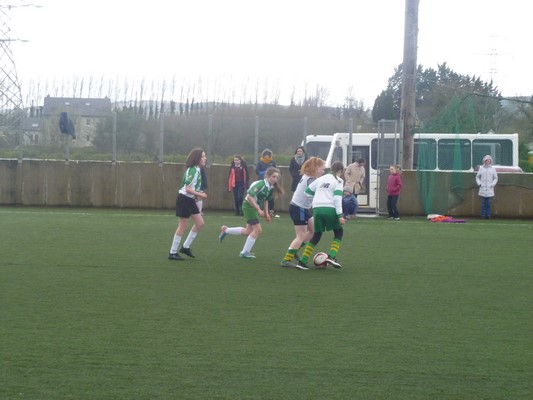 Congratulations to Molly on being selected for the panel to play in the Neville Cup - East Limerick Camogie Competition.
On our Active Board below are the results of What Club are you In Survey that the children completed along with giving suggestions of activities for our active week!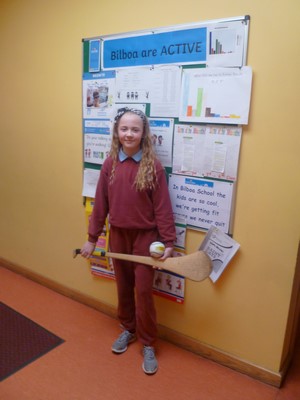 Gordon practising his golf skills before he went to a competition in Cork.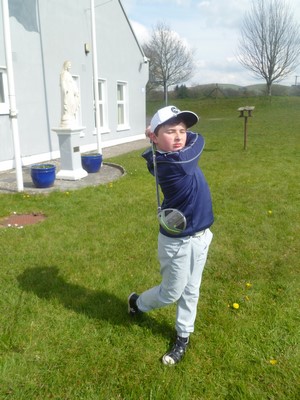 Liam Clohessy from the PDST partnership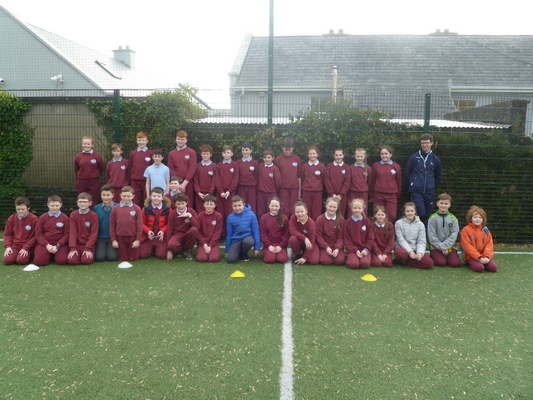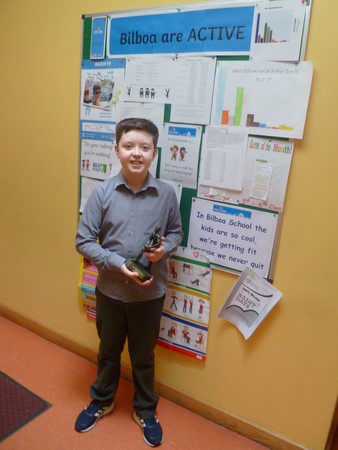 Congratulations to Ben (above) on being selected as U12 clubman of the year 2018-19 with Richmond RFC
Pupils below took part in various community games competitions.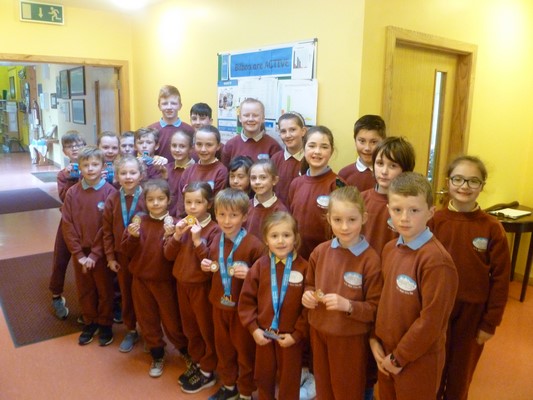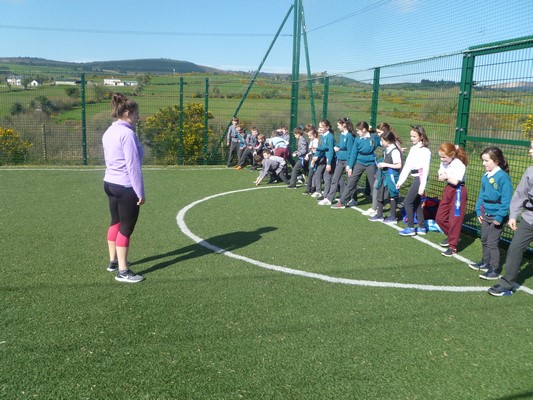 We are making good use of our indoor hurleys - thanks to the parent's council for sponsoring them. On Wednesday 13th February, girls from 4th & 5th class took part in the East Limerick Cumann na mBunscol Indoor Camogie competition. They played against Donoughmore and Caherconlish with a strong win in each match. The girls qualified for the next round of the competition.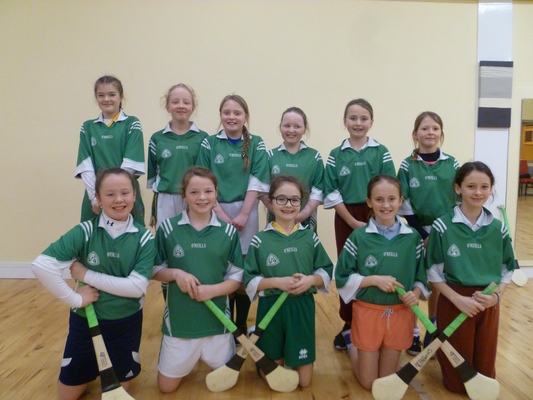 On Monday 11th February - boys from 3rd/4th class travelled to Caherconlish for the East Limerick Cumann na mBunscol Indoor Hurling competition. They played teams from Killenure, Barna and Knockea National schools. See photos below.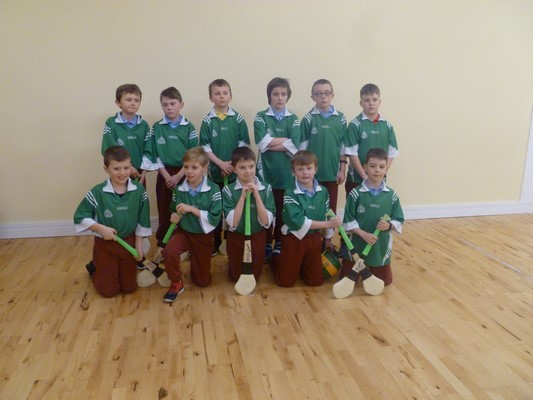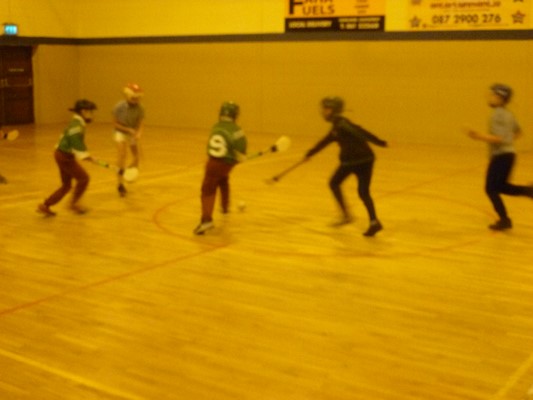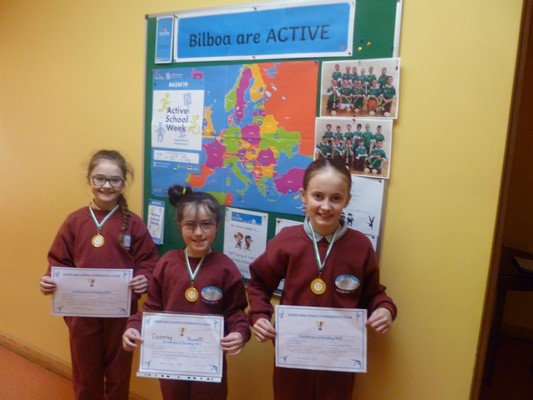 Above: 4th class girls with medals and certificates that they achieved for a gymnastics competition outside of school time.
Below: On 5th February 2019, many of our pupils gathered at Cappamore GAA pitch after school where they met the Cappamore Junior B Hurling team ahead of their All-Ireland final the following weekend. There were also members of the local community in attendance to wish the team well.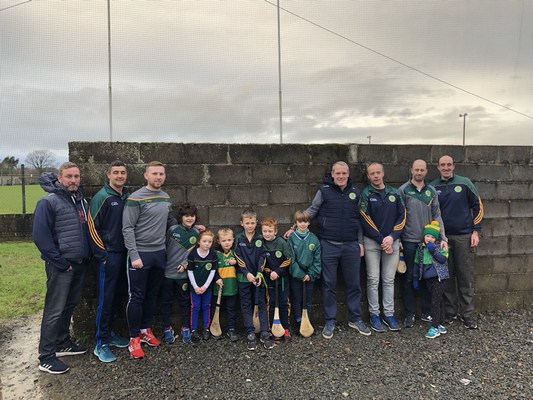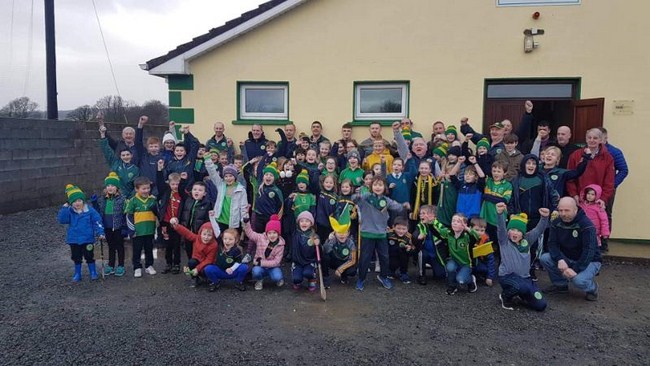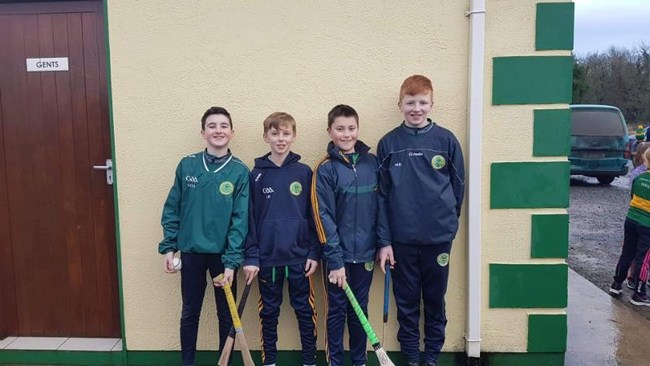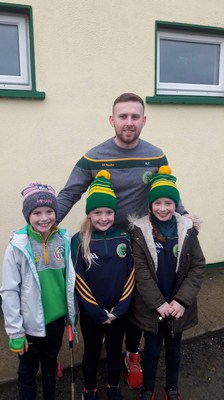 On 27th February, 5th and 6th class pupils attended a talk on healthy eating and nutrition facilitated by Limerick Sports Partnership. The talk was held at Cappamore Library as part of our Active Flag Initiative - see below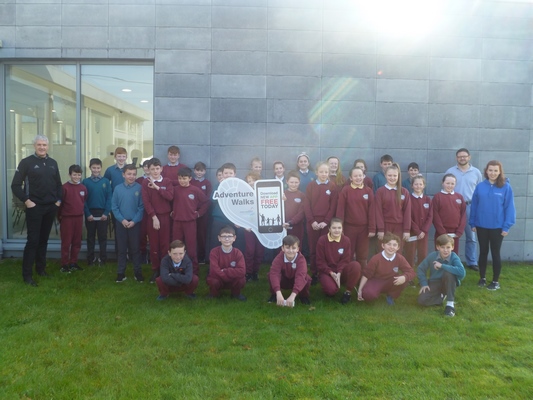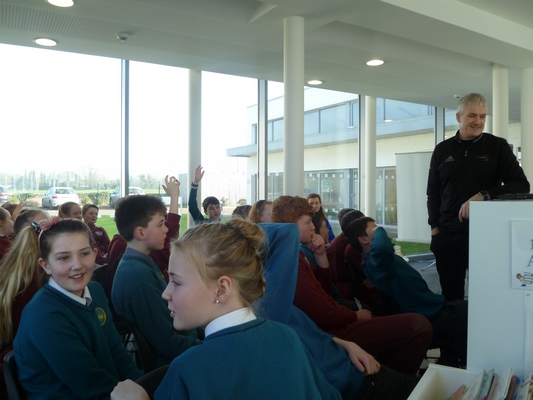 On 29th September 2018, some pupils took part in the Junior Dakar Cycling Challenge in Doon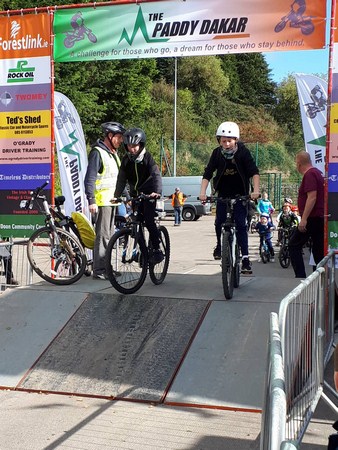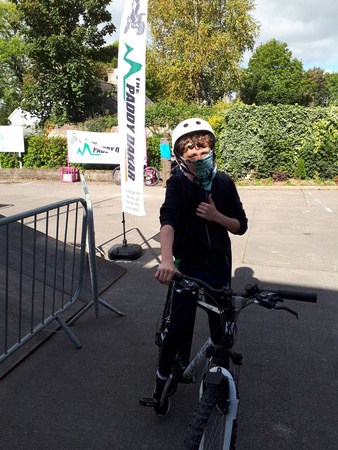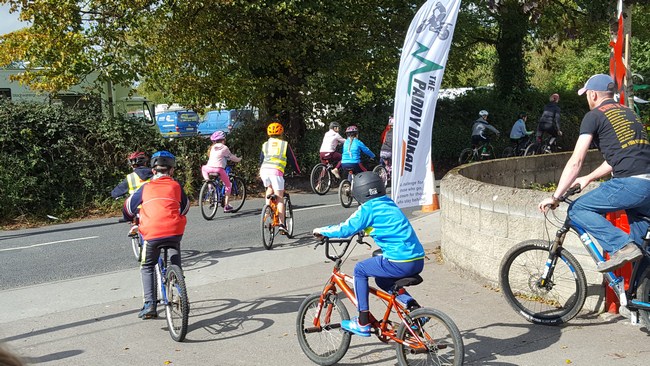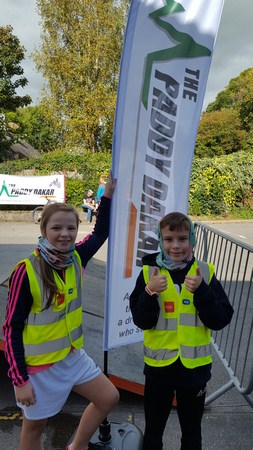 Below: Darragh O'Donovan Limerick Senior Hurler visitied us and brought classes to the astro turf pitch to teach them some of his wonderful skills. Thanks to Darragh for taking time out of his busy schedule.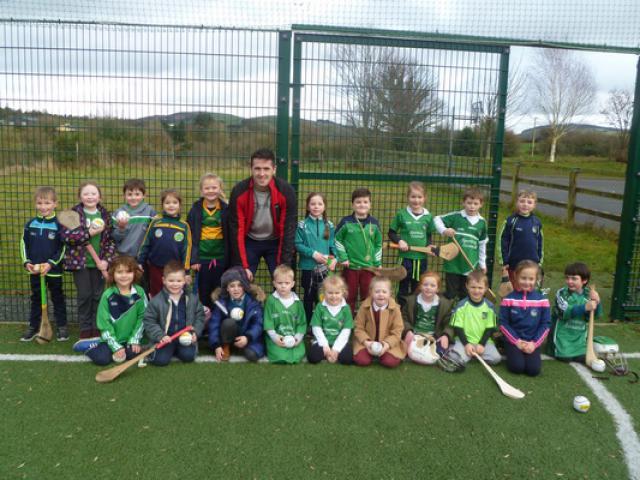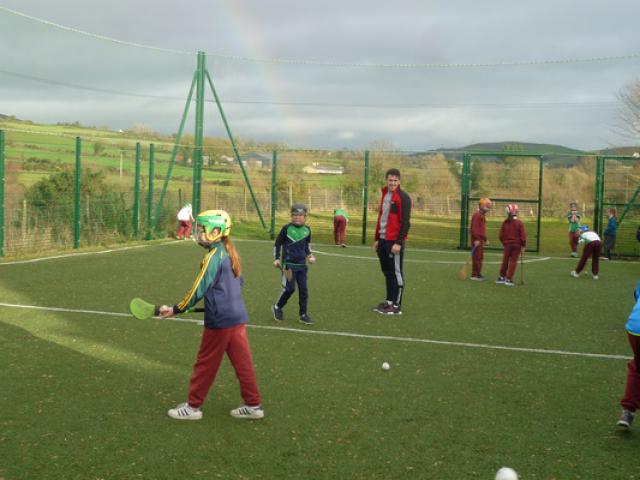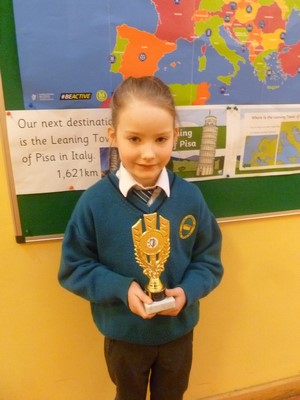 Congratulations to our of our senior infant pupil on being awarded this trophy in an Irish Dancing competition - there really are so many ways to stay active!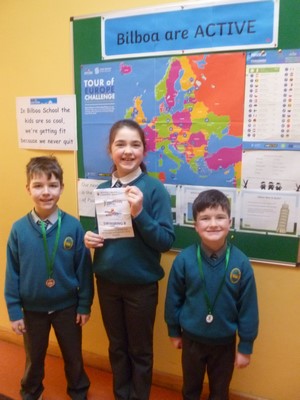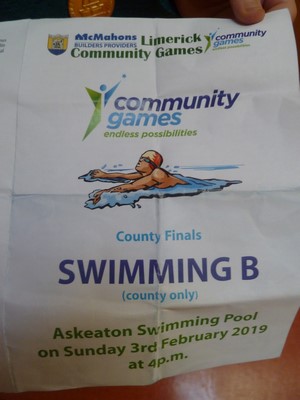 Pupils above won medals at the Community Games Swimming county finals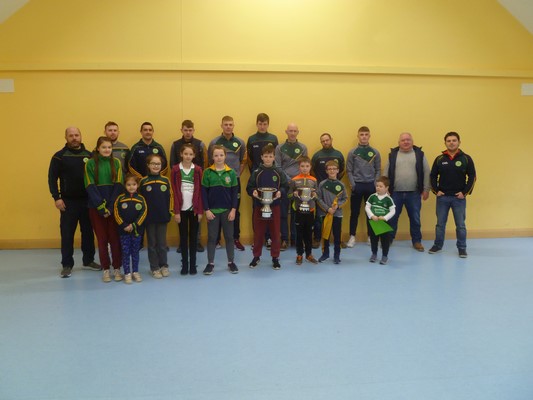 Some members of the victorious Cappamore Hurling Team on their visit to Bilboa after winning the Munster Title. We have always had strong links between our school and the local GAA Club. Days like this prove just how much we belong to clubs in our community. Some of these hurlers are past pupils of our school, others are parents of current pupils.
Above: Some of our pupils went hunting the wren on St. Stephen's Day and gave a generous donation of €100 to the homeless charity Novas.
Above: Hugh came 1st place in Riverfest's first ever fishing competition. He caught 12 fish. His prize is a top of the range fishing reel. Well done Hugh!
Some pupils were very active in harvesting vegetables from the school garden under the guidance of Ms. Wollen. They picked potatoes, carrots and leeks, which they cleaned, washed and peeled in order to make soup for our annual soup day on 28th September 2018.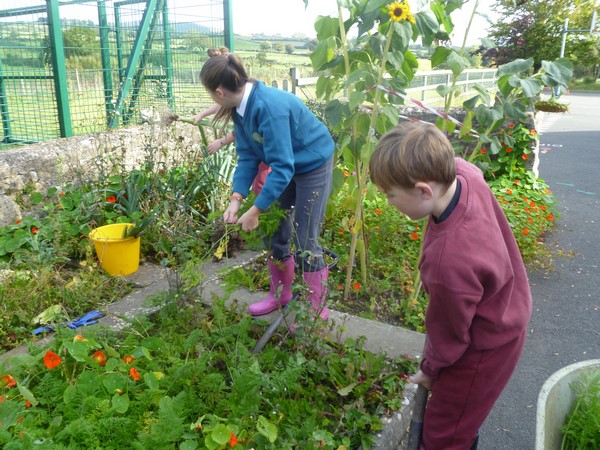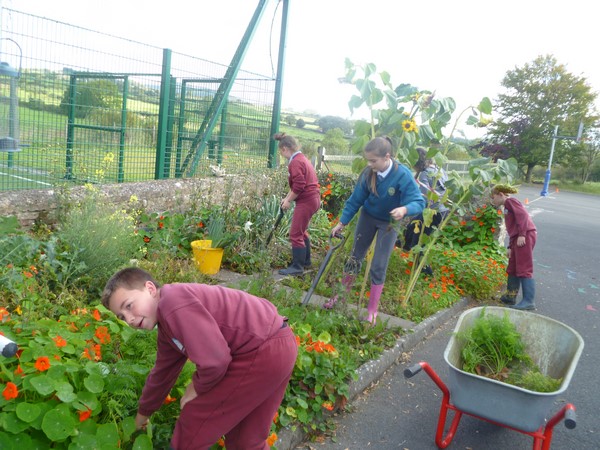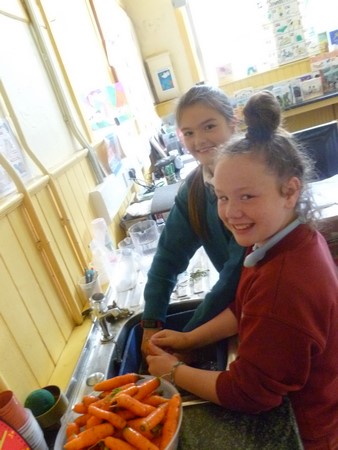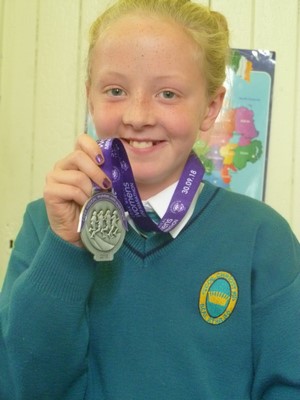 Another one of our pupils (above) displaying a medal she won at the Great Limerick Run
Infants have been very busy learning about how to stay safe on the road while keeping active. Remember that you need the code to cross the road.
Be safe, be seen, with your hi-vis jacket.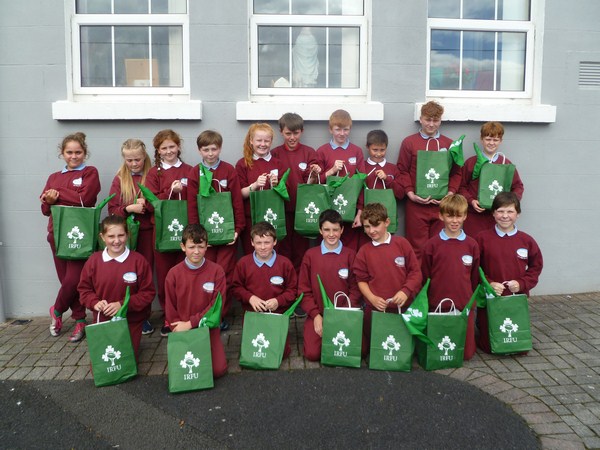 6th class visited Newport RFC on 13th September 2018 for the opening of the new pitch with Joe Schmidt, Ireland head coach and took part in some rugby games.
Due to COVID-19 related school closure, this year we are holding an 'Active Home Week' instead.

Bilboa NS held their first Active School Week from 7th-10th May 2019 which was also National Active Schools Week.
Below was our schedule for the week. Continue to scroll down to look at some photos of some of the activities the children participated in. For more photos click into the Gallery section and look under Active Week and Flag.
Pupils have composed 'Active Raps' to promote physical activity in school and the winning rap has been selected.
5th and 6th class pupils have designed aerial maps of the school grounds. There have been prizes for the winning rap and map.
Pupils competed in a soccer tournament in the weeks leading up to Active Week and the finals were held during active week.
Active week brought taster sessions in GAA, tag rubgy, boxercise, athletics, tug of war, Irish dancing and other fun and games.
It was such a wonderful week and was enjoyed by all!!
Bilboa NS Active School Week Schedule

Tuesday 7th May

Time

Activity

Who

Where

Adults

9:10am

Walk to school

All Classes

2 drop off points

Ms. Fox

Mr. Ryan

Mrs. Wollen

Parents

9:20 am

Wake Up Shake Up

All Classes

Basketball Court

6th Class Volunteers

Mr. McMahon/Mrs. Fox

9:30am onwards

Rugby Taster

Jrs/Srs

1st/2nd

3rd/4th

5th/ 6th

Astroturf

John Hayes

Fiona Hayes

12:00-12:30pm

1:00-1:30pm

1:30-2:00pm

2:00-2:30pm

2:30-3:00pm

GAA Taster

Jrs/Srs

1st/2nd

3rd/4th

5th

6th

Astroturf

Cappamore GAA

Teacher's choice

DEAR time

All classes

Basketball Court

Class teachers

12:45pm

1st-3rd Class Girls Soccer Final

2 top teams

Astroturf

Mr. Ryan/Mr.McMahon

1:00-1:20pm

1:20-1:40pm

1:40-2:00pm

2:00- 2:20pm

2:20-2:40pm

Yoga

1st/2nd

Jrs/Srs

5th

6th

3rd/4th

School Hall

Mrs. Wollen

Wednesday 8th May

9:10am

Walk to school

All Classes

2 drop off points

Ms. Fox

Mr. Ryan

Mrs. Wollen

Parents

9:20 am

Wake Up Shake Up

All Classes

Basketball Court

6th Class Volunteers

Mr. McMahon/Mrs. Fox

9:30-10:30am

11:10-12:10pm

1:00-2:00pm

2:00-3:00pm

Cricket Taster

Jrs/Srs

1st/2nd

3rd/4th

5th/ 6th

Basketball Court

James Doran

"Jiminey Cricket"

12:45pm

4th-6th Class Girls Soccer Final

2 top teams

Astroturf

Mr. Ryan/Mr. McMahon

Teacher's Choice

Active Dances

All classes

Classrooms

Class Teachers

12:10-12:30pm

10:30-10:50am

Maths Trail

Jrs-2nd Teams

3rd-6th Teams

Whole School

Class Teachers

Thursday 9h May

Time

Activity

Who

Where

Adults

9:10am

Walk to school

All Classes

2 drop off points

Ms. Fox

Mr. Ryan

Mrs. Wollen

Parents

9:20 am

Wake Up Shake Up

All Classes

Basket Ball Courts

6th Class Volunteers

Mr. McMahon/Mrs. Fox

9:20-9:50am

9:50-10:20am

10:20-10:50am

11:00-11:30am

11:30-12:00 noon

School Fitness Ireland

"Boxercise"

Jrs/Srs

1st/2nd

3rd/4th

5th/ 6th

Hall/Astroturf

Martin Sheehan

Teacher's Choice

Bizzy Breaks; True/False Game

All Classes

In Classrooms

All Class Teachers

12:45pm

1st-3rd Class Boys Soccer Final

2 top teams

Astroturf

Mr. Ryan/Mr. McMahon

1:00pm

Obstacle Course

Whole School Event

Court & Astroturf

Ms. Fox

Mr. McMahon

Friday 10th May

9:10am

Walk to school

All Classes

2 drop off points

Ms. Fox

Mr. Ryan

Mrs. Wollen

Parents

9:20 am

Wake Up Shake Up

All Classes

Basket Ball Court

6th Class Volunteers

Mr. McMahon/Mrs. Fox

9:30am

10:00am

10:30am

11:30am

12:00 noon

1:00pm

1:30pm

2:00pm

Athletics

Jrs

Srs

1st

2nd

3rd

4th

5th

6th

Basketball Court

Rosemary Ryan

11:00am

Tug of War Taster

1st-6th

Astroturf

Cathy

Class Teacher

12:45pm

4th-6th Class Boys Soccer Final

2 top teams

Astroturf

Mr. Ryan/Mr. McMahon

Teacher's Choice

Drop Everything and SKIP

All classes

Basketball Court

Class teachers

12:45pm

Funky Friday

All Classes

Basketball Court

6th Class Girls

1:00pm

Whole School Dance

All Classes

Basketball Court

6th Class Girls

1:15pm

Penalties against Mr Ryan

3rd- 6th Class

Astroturf

Mr Ryan

1:15pm

Parachute

Jrs/Srs/1st/2nd

Basketball Court

Mrs Fox
60 minute Activity Challenge set for the week.
Active homework below replaces written homework.
Active week began with taster sessions of rugby for all classes (below) Thanks to local rugby hero John 'The Bull' Hayes and his wife Fiona and children for such a wonderful taster session in tag rugby!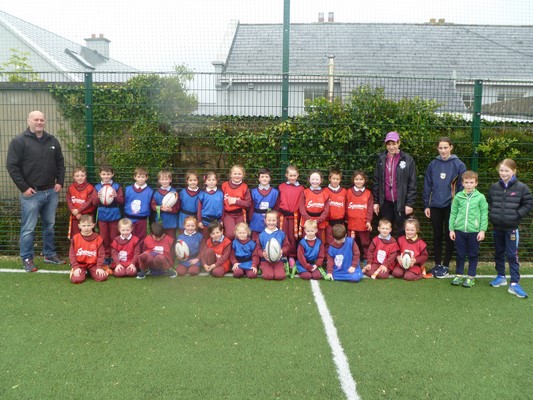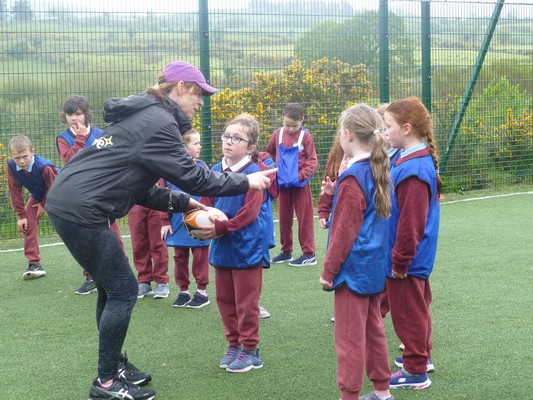 Each morning kicked off with 'Wake Up-Shake Up' in the yard below with 6th class demonstarting the exercises and games.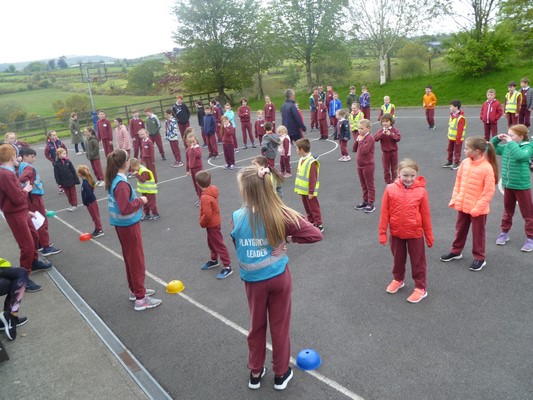 Irish Dancing classes with the well known local Pauline Hynan (below).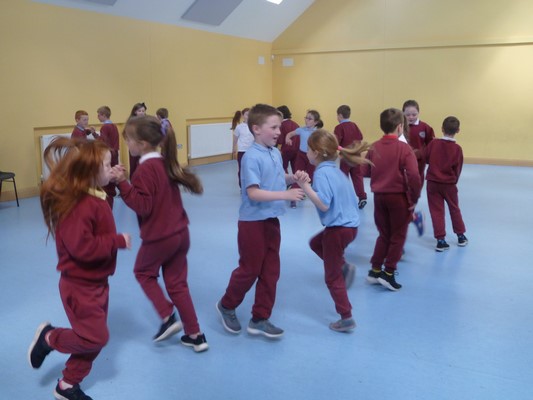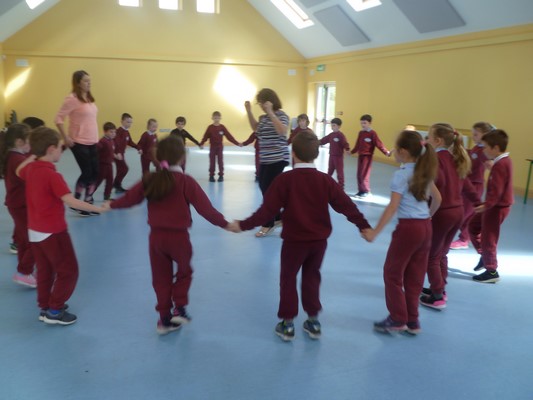 Yoga with Mrs. Wollen (below)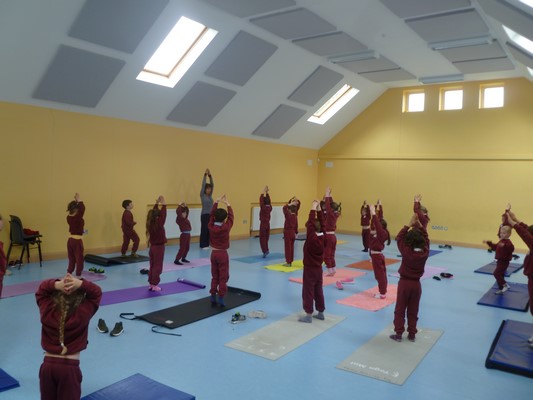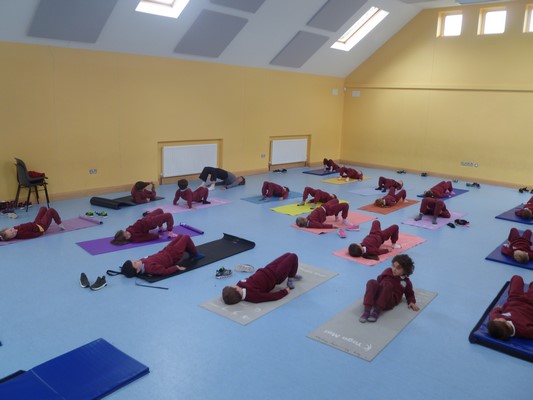 GAA taster sessions with coaches from the local GAA club (below)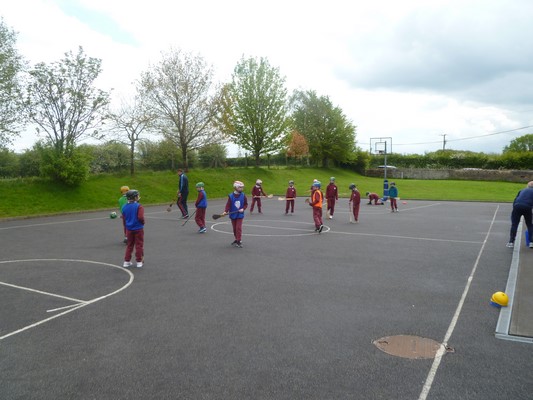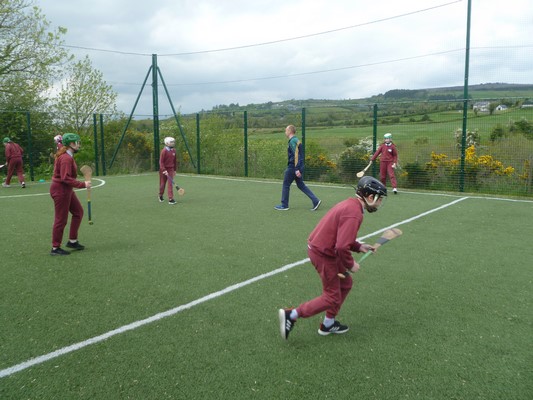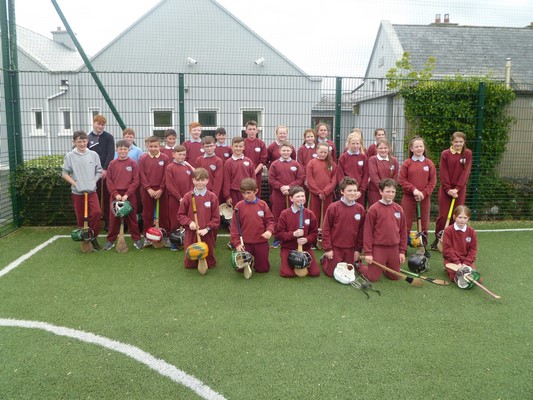 All classes enjoyed the obstacle course in the hall (below) during active week. Thanks to Eadaoin (Sports Limerick Partnership) for the loan of some of their equipment from Cappamore Hall.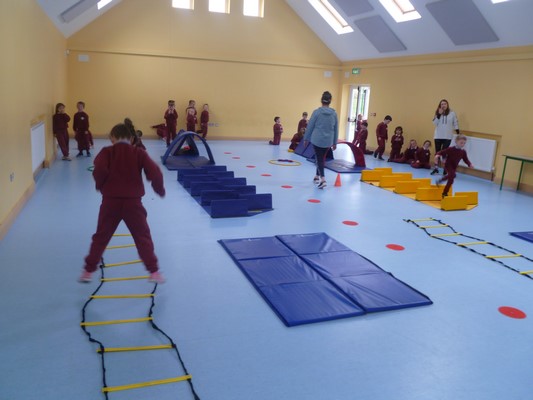 On Thursday we had a coach from 'Schools Fitness Ireland' to teach Boxercise to all classes.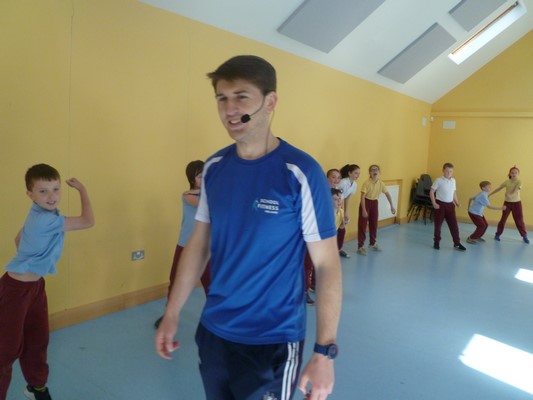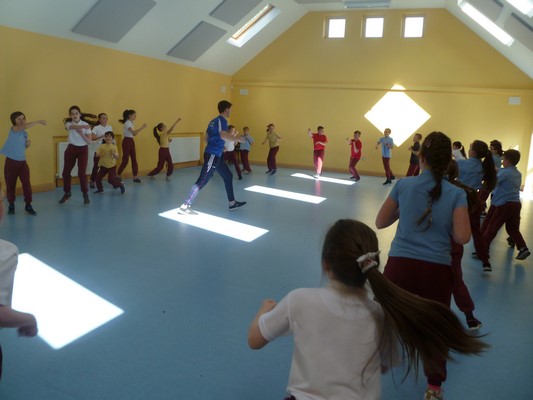 Pupils worked in teams to complete a maths trail based around the school playground with lots of measuring, counting, using our active walkway plaques with word problems and much more. There were 2 versions of the trail; one for the junior end and one for the senior end of the school.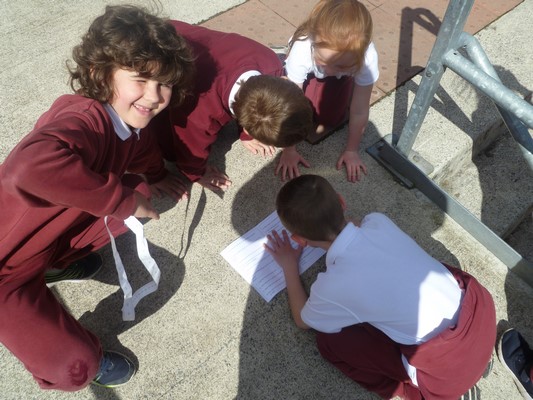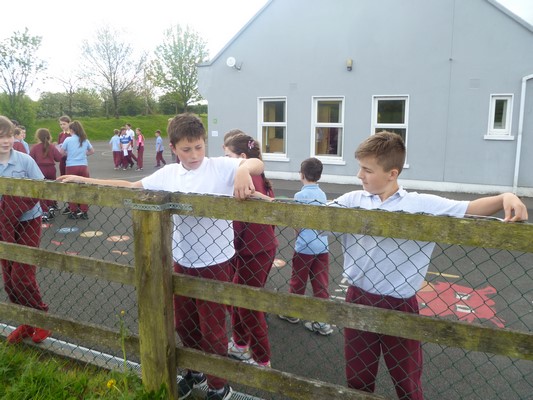 Pupils ready to walk to school from Bilboa Cross.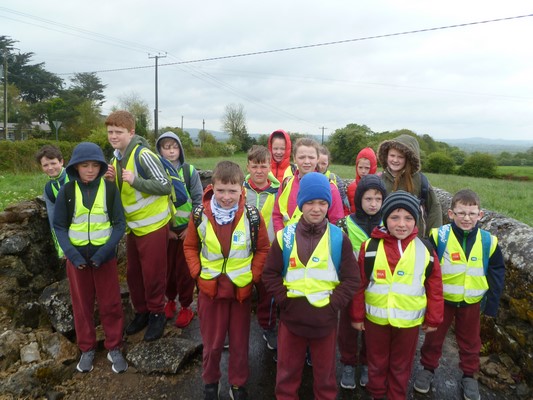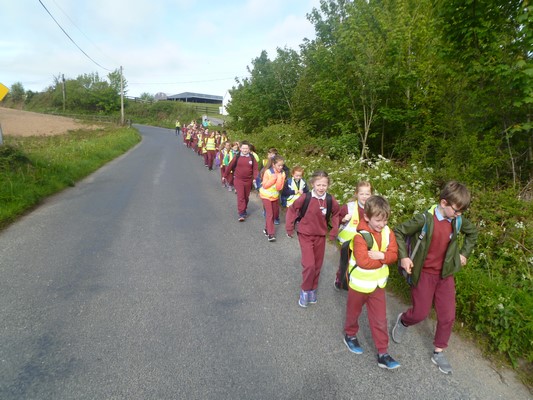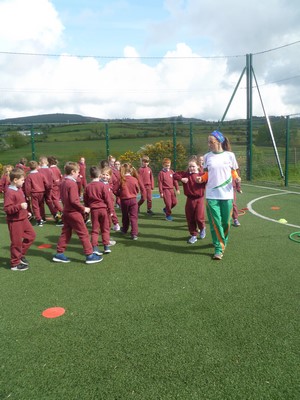 Athletics games with local olympic athlete Rosemary Ryan.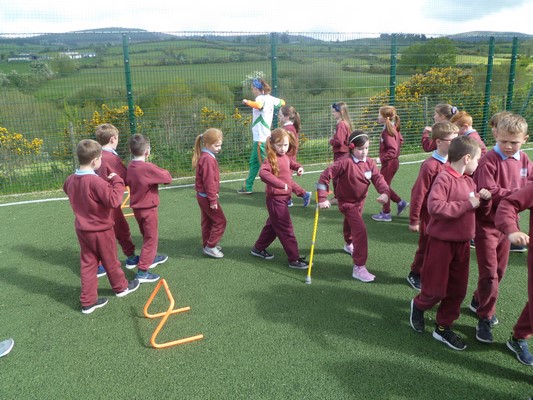 DEAS (Drop Everything and Skip)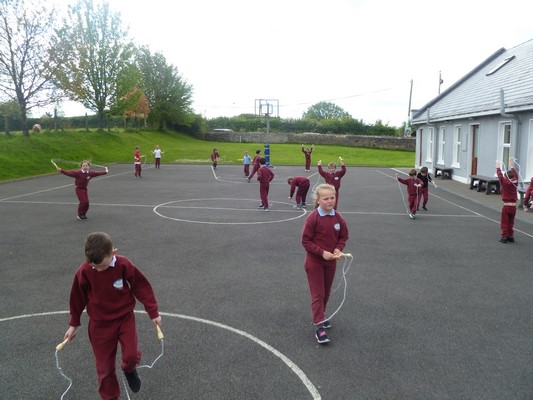 Tug-O-War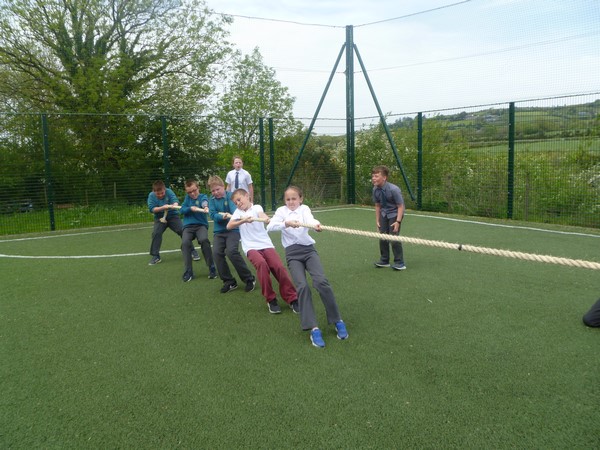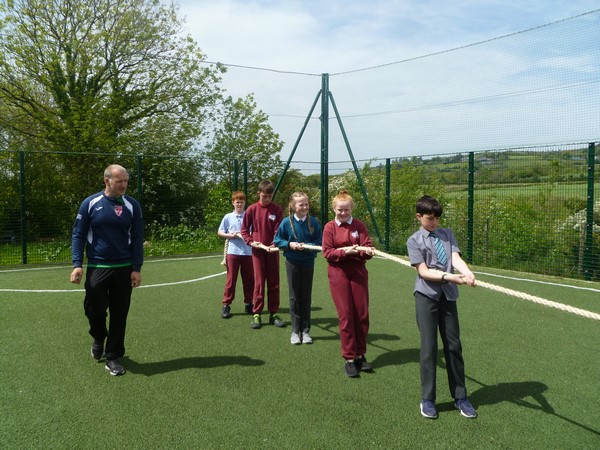 Cricket coaching (below) with Jiminy.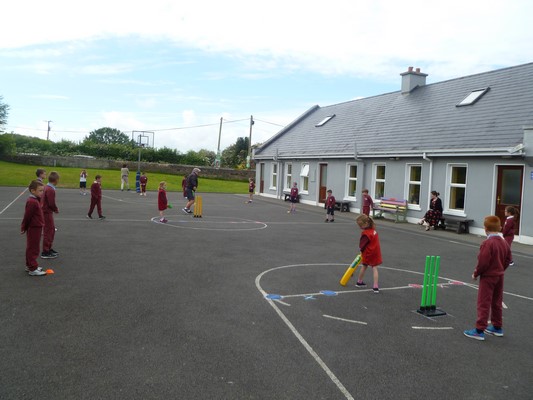 Pupils being active in the school garden during active week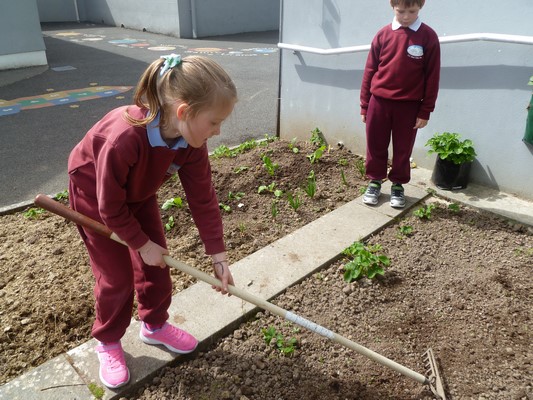 Visual art has been integrated into active week by 3rd & 4th class pupils with illustrations of the activities that took place!